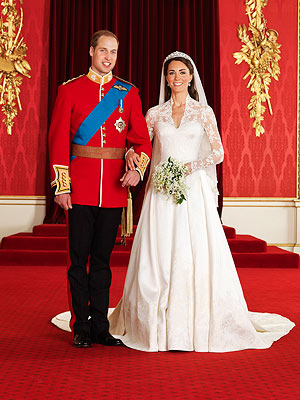 Wills and Kate
Credit: Hugo Burnand/Clarence House/PA/Landov
This food is full-on British.

Lori and I still like celebrating the Royal Wedding a little longer.

We won't go on forever about this, but it's been fun.

Plus we needed a weekend to pull this all together.

It's a Sunday Dinner type of meal.
SIDE NOTE #1:

I tried to convince Lori to make haggis, which is a Scottish meal of grains and animal organs like hearts and livers, cooked in a sheep's stomach.

She declined.
To make sure this was totally legit, I emailed my Brit brother, Rich.

He gave me all I needed to know.

I asked: 'what is a true Brit meal?'

He said this: beef roast, roasted potatoes, veggie like Brussels sprouts or cabbage, Yorkshire pudding (what the heck is this?), and maybe spotted dick pudding (what the eff is this?).
SIDE NOTE #2:

Spotted dick pudding has currants and suet in it and does look like a dessert.

The currants make the spots.

The 'dick' portion of the name is believed to be a corruption of the word 'dog' in German.

The pudding is also called 'spotted dog', but obviously that's not nearly as funny.

Rich said his dad liked to order (in his booming voice) spotted dick pudding at restaurants to embarrass Rich and his brother.

I thought I'd sign on for one pudding at a time – Yorkshire.
The roast, potatoes and Brussels spouts won't be hard.

My fam likes all of those things.

So my true test for the Brit meal will be Yorkshire pudding.

From my online research for recipes, it appears that Yorkshire pudding is most equivalent to popovers.

Rich confirmed this.
But let's take a step back.

I found a recipe for the Queen's Scones at one of our fave blogs, so I thought I'd start our Sunday meal with them.

I mixed the ingredients up – flour, salt, egg, milk, cream of tartar (which I didn't have so I substituted baking powder – turned out fine), baking soda, sugar, melted butter.

I added dried cranberries too. (OH, and I halved the recipe because I only had 1 egg, not two; and I added a little extra flour to get a texture that looked right – slightly wet cookie dough.)
Mixed up the ingredients…
KD took this picture for me!
…dropped spoonfuls on a greased cookie sheet…
Bake 'em
…and baked at 350° for about 15 minutes, until puffed up and golden, but not browned.

Bake a little longer if they aren't golden yet.
Gold 'n delicious
Brit conserves from Mum S
I added a mix of cream cheese and strawberry preserves (which Rich's Mum gave me) – pretty tasty!

You can see the girls were happy:
KD - yum!
Easy Mac - more please!
So next, I made homemade laundry detergent.

Oh wait, that's a different post.
Beef Roast
: When I had the scone stuff and detergent stuff cleaned up, Shaun seared the roast (brown the outside of the roast before baking – adds taste) and plopped it in the crock pot for a day of cooking on low.

(FYI – we added a little water, so it wouldn't get dried out before it starts making its own juices.

I have a can of beef broth and some beef boullion for later to cook the potatoes and to use for the Yorkshire pudding.

You'll see this below.)

One step done!
Shaun is searing
Red Potatoes
:

I dropped these in the crock pot with the roast at about 3:00 p.m., and turned the crock pot to high.

We planned to eat at 5:00, so this was about 2 hours ahead.

Make sure there's enough broth in the crock pot at this point that the roast and potatoes are bubbling comfortably.

I didn't have to add any extra liquid.
Taters going in
Brussels Sprouts
:

As I took the food out of the oven and crock pot, I put I these Green Giant steamer Brussels sprouts in the microwave – 6 minutes.

They are slick and tasty.

As I've mentioned in the past, frozen fruits and veggies are as healthy as fresh because they are flash frozen at the source, within hours of being picked.

And economical too – with a coupon I think I paid $.99 for these.
How easy is that? Just enough for the 4 of us
Yorkshire Pudding
:

Turns out this was pretty easy.

You'll need:
½ cup pan drippings from the beef roast
Preheat the oven to 450º F.

My oven tends to flip out if it goes higher than 425º so that's as high as I went – and hoped for the best.

It was fine.
I stirred the flour and salt together in a bowl.

In a separate bowl I beat the eggs and milk with a whisk until light and foamy (bubbles form).
Whisk time
Light 'n fluffy
Stir in the dry ingredients just until incorporated.
Pour the drippings into a pie plate or cast iron pan and place in the oven until the broth is piping hot (probably about 5-10 minutes).
See the juice bubble over the edge of the batter?
CAREFULLY take the pie plate and juice back out of the oven and CAREFULLY pour the batter into it.

Put the pan back into the oven and cook until puffed and dry, 15-20 minutes.

I took mine out at 18 minutes.
Served up at the table - fancy!
Up close
We put the meal all together and it was da-lish!

The Yorkshire pudding kind of had the consistency of polenta or cheesecake.

It tasted like salty popovers (which have a similar egg, flour and milk based batter).

I loved where the beef broth bubbled over the edges onto the pudding.

Super yum.
That's it - friends with Mr. Brussels
Shaun liked it, and each of the girls ate some – they tried some of everything for this meal, which is a success.

Individually, they like all of these foods.

Getting them to eat anything at all on any given day is the true accomplishment.
Thanks Duke Will and Duchess Catherine for inspiring Lori and me to try these yummy meals.

Thanks Rich for giving me the insight into a proper Brit dinner.

I'd definitely do this again.
PS – Happy Birthday Rich!